How would you like an authentic bronze ship port hole? You could create a great display piece generating curiosity by all who encounter it, or simply enjoy the antique for its high value.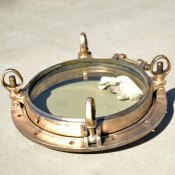 This beauty is massive; with an overall diameter of 18 inches and a depth of 3 inches it weighs nearly 50 lbs. Our research suggest that this type of port hole was most likely from a WWII era ship, however we salvaged the artifact from a vessel that was over 100 years old. The vessel was properly cleaned and prepared and is now an artificial reef off the cost of Florida. Today she is serving as productive marine habitat.
TISIRI is collecting entries for a random drawing event in which the port hole will be awarded. Have a chance at this unique piece by simply making a small contribution. A $5.00 TISIRI contribution will generate one entry while a $20.00 contribution will provide five entries. Click on the image below to enter. Considering only a set amount of entries will be accepted, odds of winning are quite reasonable.
TISIRI is offering this opportunity in an effort to raise funds to help offset cost associated with an anticipated aircraft wreckage search. Please know that by making a contribution you not only will have a fair chance at possibly winning the port hole but will also be helping TISIRI with aircraft investigation and marine conservation efforts.
Specifics:
Once the total number of entries have been received, TISIRI will randomly draw one entry of the accumulated entries. The selection will take place at a TISIRI event, through a live webcast, or announced via TISIRI social media. The selected winner will have the opportunity to claim the prize with proof of a photo ID. The port hole gift can be picked up in person at TISIRI HQ or TISIRI will have it shipped.
The port holes shown in the pictures may not be the exact port hole that is awarded. Although it will be the same type of porthole, it will most likely not come included with a trim frame or may not be as polished in appearance. The porthole may need to be cleaned and polished to match the shinny bronze look as demonstrated in the provided photos.
TISIRI is a 501c3 non-profit organization. Your contribution should qualify for tax deduction and it is encouraged you keep a copy of your contribution receipt for your tax filing purposes.