It is time for the 2nd annual Northeast Florida Lionfish Blast Tournament. The tournament is a fun and competitive event that combines the efforts of many to address a growing crisis.
The invasive lionfish epidemic in the western Atlantic is an ever growing problem. Northeast Florida is no exception, and these creatures are consuming the resources of our native marine life. Unfortunately species of environmental and economical importance are at risk due to the lionfish invasion.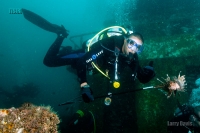 In an effort to encourage as much manpower as possible to harvest lionfish, a tournament awarding attractive prizes will be held throughout the month of April 2014. The event is called the Northeast Florida Lionfish Blast and is open to lionfish hunters offshore the coast of Jacksonville and St. Augustine. Prizes will be awarded in several categories with emphasis on most lionfish harvested.
Click the button above to enter the lionfish tournament website. Here you will find more information and be able to register. Looking forward to seeing your catch!
This Thursday, March 27th, there will be a fun captains meeting and raffle event. We encourage all those able to enter the tournament but even if you are not able to participate in the tournament stop by the event for the awesome raffle for a chance to pick up some great items. We will start gathering around 5:30pm at the Mudville Grille off Monument road and the raffle is intended to start shortly after 7pm. Stop by to say hey and pick up an awesome raffle prize!
A brief video of previous lionfish harvest efforts below:

Project Sponsors: