Brought to you by:

Coordinates
Depth
Structure
30° 17.361'
80° 57.887'
80 Ft.
Tug Boat
Pictures:

Additional pictures of this Artificial Reef here
Video:
Additional video of this Artificial Reef here.
---
Reef History:
W.T. Coppedge, III 211759 was built 1913 in Baltimore, MD for White Stack Towing Corp. Her dimensions were 95' X 26' X 12' at 197 gt. Originally powered by a steam engine, she was rebuilt and repowered with a Fairbanks Morse 1600hp 8 cylinder engine in Jacksonville, Fl 1961. The engine is still in the vessel. This reef was deployed in 1988.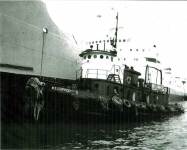 ---